THE REBEL YELL OF THE MIDDLE CHILD. FED A STEADY DIET OF SUPER-TECH CLIMBS. THE SB130 WAS BUILT TO CRUSH THE BIGGEST TERRAIN. NO TRAIL "TOO" ANYTHING. POINT IT UP OR DOWN. ENTER A LAST-MINUTE ENDURO JUST FOR THE EFF OF IT. WE SAY NO ONE BIKE CAN RULE ALL. BUT THE SB130? ONE BIKE THAT RULES.
LUNCH RIDE KIT IS MORE THAN JUST A NAME
FRONT FORK
More millimeters of fork travel
More millimeters of rear travel
Slacker headtube for bigger terrain
More than just added travel we wanted to enhance the whole package
FRONT FORK TRAVEL
It never hurts to go bigger on your gear when you're going bigger out there. Lunch Ride kits get a 160mm Grip 2 damper fork so riders can dial in their suspension and get the most performance out of their suspension and most of the terrain.
REAR WHEEL TRAVEL
7mm might be small to others, but to mountain bikers it's the difference in "will you?" and "hell yes!" Pair this 7mm to the bigger front fork and the already capable SB130 starts to give its bigger sibling a run for the money.
DEGREES SLACKER HTA
Lengthen the fork and you slacken the head angle by half a degree. What you get is a bike that exudes confidence no matter what you choose to descend so you can push longer, faster, and further into the unknown.
COMPONENT SPEC CHANGES
Wider bars, bigger rear rotor, beefier tires, burlier wheels, and more powerful brakes. LR isn't just a spec change. It's a mindset shifter. Eight total spec differences make sure the Lunchride is ready for anything the trail throws at it. It's up to any task. Are you?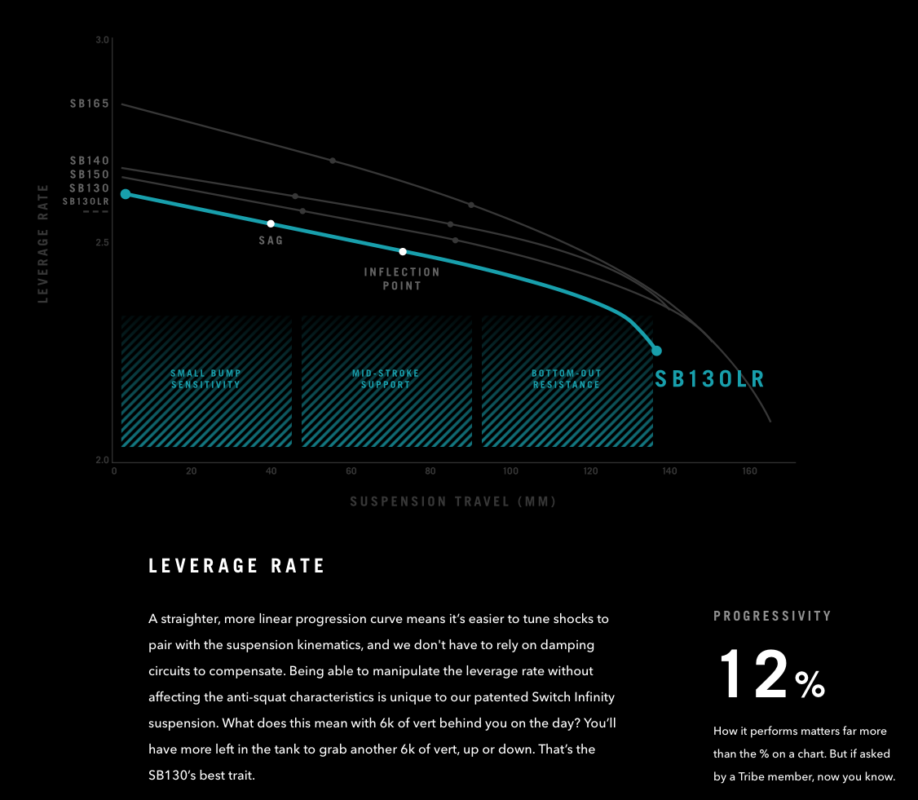 BUILD KITS
DETAILS
T3,

TURQ

series carbon, SRAM XX1 Eagle, Fox Factory 36 Fit 4 Fork
TLR T2,

TURQ

series carbon, SRAM X01 Eagle, Fox Factory 36 Grip 2 Fork
T2,

TURQ

series carbon, SRAM X01 Eagle, Fox Factory 36 Fit 4 Fork
TLR T1,

TURQ

series carbon, Shimano XT, Fox Factory 36 Grip 2 Fork
T1,

TURQ

series carbon, Shimano XT, Fox Factory 36 Fit 4 Fork
CLR, C series carbon, SRAM GX Eagle, Fox Performance 36 Fork
C2, C series carbon, SRAM GX Eagle, Fox Performance 36 Fork
C1, C series carbon, Shimano SLX, Fox Performance 36 Fork
SB130 Frame Only
FRAME

TURQ

Series carbon fiber frame, Switch Infinity suspension technology, press-fit BB92, internally tunneled cable routing, 148mm x 12mm BOOST dropouts, sealed enduro max pivot bearings, integrated derailleur hanger, and axle.

TURQ

Series carbon fiber frame, Switch Infinity suspension technology, press-fit BB92, internally tunneled cable routing, 148mm x 12mm BOOST dropouts, sealed enduro max pivot bearings, integrated derailleur hanger, and axle.

TURQ

Series carbon fiber frame, Switch Infinity suspension technology, press-fit BB92, internally tunneled cable routing, 148mm x 12mm BOOST dropouts, sealed enduro max pivot bearings, integrated derailleur hanger, and axle.

TURQ

Series carbon fiber frame, Switch Infinity suspension technology, press-fit BB92, internally tunneled cable routing, 148mm x 12mm BOOST dropouts, sealed enduro max pivot bearings, integrated derailleur hanger, and axle.

TURQ

Series carbon fiber frame, Switch Infinity suspension technology, press-fit BB92, internally tunneled cable routing, 148mm x 12mm BOOST dropouts, sealed enduro max pivot bearings, integrated derailleur hanger, and axle.
C/Series carbon fiber frame, Switch Infinity suspension technology, press-fit BB92, internally tunneled cable routing, 148mm x 12mm BOOST dropouts, sealed enduro max pivot bearings, integrated derailleur hanger, and axle.
C/Series carbon fiber frame, Switch Infinity suspension technology, press-fit BB92, internally tunneled cable routing, 148mm x 12mm BOOST dropouts, sealed enduro max pivot bearings, integrated derailleur hanger, and axle.
C/Series carbon fiber frame, Switch Infinity suspension technology, press-fit BB92, internally tunneled cable routing, 148mm x 12mm BOOST dropouts, sealed enduro max pivot bearings, integrated derailleur hanger, and axle.

TURQ

Series carbon fiber frame, Switch Infinity suspension technology, press-fit BB92, internally tunneled cable routing, 148mm x 12mm BOOST dropouts, sealed enduro max pivot bearings, integrated derailleur hanger, and axle.
FORK
FOX FACTORY 36 FIT 4/150MM
FOX FACTORY 36 GRIP 2/160MM
FOX FACTORY 36 FIT 4/150MM
FOX FACTORY 36 GRIP 2/160MM
FOX FACTORY 36 FIT 4/150MM
FOX PERFORMANCE 36/160MM
FOX PERFORMANCE 36/150MM
FOX PERFORMANCE 36/150MM
MATERIAL

TURQ

SERIES

TURQ

SERIES

TURQ

SERIES

TURQ

SERIES

TURQ

SERIES
C/SERIES
C/SERIES
C/SERIES

TURQ

SERIES
WEIGHT
29.38
30.70
29.60
30.70
30.10
31.48
30.38
30.63
6.90
TRAVEL
130MM (5.1″)
137MM (5.4″)
130MM (5.1″)
137MM (5.4″)
130MM (5.1″)
137MM (5.4″)
130MM (5.1″)
130MM (5.1″)
130MM (5.1″)
REAR SHOCK
FOX FACTORY DPX2, 210 x 52.5MM
FOX FACTORY DPX2, 210 x 55MM
FOX FACTORY DPX2, 210 x 52.5MM
FOX FACTORY DPX2, 210 x 55MM
FOX FACTORY DPX2, 210 x 52.5MM
FOX PERFORMANCE DPX2, 210 x 55MM
FOX PERFORMANCE DPX2, 210 x 52.5MM
FOX PERFORMANCE DPX2, 210 x 52.5MM
FOX FACTORY DPX2, 210 x 52.5MM
WHEELSET
DT SWISS XM1700 30MM
DT SWISS CUSTOM EX1700 30MM
DT SWISS XM1700 30MM
DT SWISS CUSTOM EX1700 30MM
DT SWISS XM1700 30MM
DT SWISS E1900 30MM
DT SWISS M1900 30MM
DT SWISS M1900 30MM
REAR DER
SRAM XX1 EAGLE
SRAM X01 EAGLE
SRAM X01 EAGLE
SHIMANO XT
SHIMANO XT
SRAM GX EAGLE
SRAM GX EAGLE
SHIMANO SLX
SHIFT
SRAM XX1 EAGLE
SRAM X01 EAGLE
SRAM X01 EAGLE
SHIMANO XT
SHIMANO XT
SRAM GX EAGLE
SRAM GX EAGLE
SHIMANO SLX
CRANK
SRAM X01 EAGLE 30T 170MM
SRAM X1 EAGLE 30T 170MM
SRAM X1 EAGLE 30T 170MM
SHIMANO XT 30T 170MM
SHIMANO XT 30T 170MM
SRAM GX EAGLE 30T 170MM
SRAM GX EAGLE 30T 170MM
SHIMANO SLX 30T 170MM
BB
SRAM DUB BB92
SRAM DUB BB92
SRAM DUB BB92
SHIMANO XT BB92
SHIMANO XT BB92
SRAM DUB BB92
SRAM DUB BB92
SHIMANO XT BB92
CASSETTE
SRAM XX1 EAGLE 1299 10-52
SRAM X01 EAGLE 1295 10-52
SRAM X01 EAGLE 1295 10-52
SHIMANO XT 10-51
SHIMANO XT 10-51
SRAM GX EAGLE 1275 10-52
SRAM GX EAGLE 1275 10-52
SHIMANO SLX 10-51
CHAIN
SRAM XX1 EAGLE
SRAM GX EAGLE
SRAM GX EAGLE
SHIMANO XT
SHIMANO XT
SRAM GX EAGLE
SRAM GX EAGLE
SHIMANO SLX
BRAKES
SRAM G2 ULTIMATE
SRAM CODE RSC
SRAM G2 RSC
SHIMANO XT 4 PISTON
SHIMANO XT 4 PISTON
SRAM CODE R
SRAM G2 R
SHIMANO DEORE 4 PISTON
ROTORS
SRAM CENTERLINE 200/SRAM CENTERLINE 180
SRAM CENTERLINE 200/SRAM CENTERLINE 180
SRAM CENTERLINE 200/SRAM CENTERLINE 180
SHIMANO 203/SHIMANO 180
SHIMANO 203/SHIMANO 180
SRAM CENTERLINE 200/SRAM CENTERLINE 180
SRAM CENTERLINE 200/SRAM CENTERLINE 180
SHIMANO 203/SHIMANO 180
POST
FOX TRANSFER FACTORY 31.6MM / SM: 125MM, MD: 150MM, LG-XL: 175MM
FOX TRANSFER 31.6MM / SM: 125MM, MD: 150MM, LG-XL: 175MM
FOX TRANSFER 31.6MM / SM: 125MM, MD: 150MM, LG-XL: 175MM
FOX TRANSFER 31.6MM / SM: 125MM, MD: 150MM, LG-XL: 175MM
FOX TRANSFER 31.6MM / SM: 125MM, MD: 150MM, LG-XL: 175MM
FOX TRANSFER 31.6MM / SM: 125MM, MD: 150MM, LG-XL: 175MM
FOX TRANSFER 31.6MM / SM: 125MM, MD: 150MM, LG-XL: 175MM
FOX TRANSFER 31.6MM / SM: 125MM, MD: 150MM, LG-XL: 175MM
FRONT TIRE
MAXXIS MINION DHF 2.5 EXO
MAXXIS ASSEGAI 2.5 EXO+
MAXXIS MINION DHF 2.5 EXO
MAXXIS ASSEGAI 2.5 EXO+
MAXXIS MINION DHF 2.5 EXO
MAXXIS ASSEGAI 2.5 EXO+
MAXXIS MINION DHF 2.5 EXO
MAXXIS MINION DHF 2.5 EXO
REAR TIRE
MAXXIS AGGRESSOR 2.3 EXO
MAXXIS MINION DHR II 2.4 EXO+
MAXXIS AGGRESSOR 2.3 EXO
MAXXIS MINION DHR II 2.4 EXO+
MAXXIS AGGRESSOR 2.3 EXO
MAXXIS MINION DHR II 2.4 EXO+
MAXXIS AGGRESSOR 2.3 EXO
MAXXIS AGGRESSOR 2.3 EXO
HEADSET
CANE CREEK 110 INTEGRATED
CANE CREEK 40 INTEGRATED
CANE CREEK 40 INTEGRATED
CANE CREEK 40 INTEGRATED
CANE CREEK 40 INTEGRATED
CANE CREEK 40 INTEGRATED
CANE CREEK 40 INTEGRATED
CANE CREEK 40 INTEGRATED
BAR
YETI CARBON 35X780MM
YETI CARBON 35X800MM
YETI CARBON 35X780MM
YETI CARBON 35X800MM
YETI CARBON 35X780MM
RACE FACE AEFFECT R 35X780MM
RACE FACE AEFFECT R 35X780MM
RACE FACE AEFFECT R 35X780MM
STEM
RACE FACE TURBINE R 35X50MM
RACE FACE AEFFECT R 35X50
RACE FACE AEFFECT R 35X50
RACE FACE AEFFECT R 35X50
RACE FACE AEFFECT R 35X50
RACE FACE RIDE 35X50MM
RACE FACE RIDE 35X50MM
RACE FACE RIDE 35X50MM
GRIPS
ODI ELITE PRO
ODI ELITE PRO
ODI ELITE PRO
ODI ELITE PRO
ODI ELITE PRO
ODI ELITE PRO
ODI ELITE PRO
ODI ELITE PRO
SEAT
ERGON SADDLE
SILVERADO CUSTOM
SILVERADO CUSTOM
SILVERADO CUSTOM
SILVERADO CUSTOM